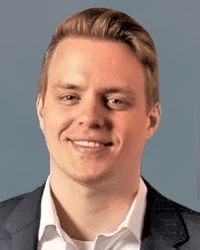 Executive Vice President, Engineering and Program Management & General Manager, DNA & Forensics
As a visionary, cross-functional leader with a track record of delivering and operating complex solutions in healthcare technology, Alex has a passion for innovation and a thorough understanding of engineering, operations and management disciplines and their interactions at scale. He consistently drives iterative process improvement, transformational change, and breakthrough advancements for InVita and our customers. Alex's determination to stay at the forefront of industry developments enables him to envision and rapidly implement novel solutions that have lasting impact, including transformative offerings and integrations for hospitals and health systems, federal and state-level government agencies, human biologics ecosystems, forensic and diagnostic laboratories and other highly regulated, mission-critical markets.
Prior to InVita, Alex spent a decade leading operational processes and all engineering teams at Transplant Connect (now InVita's Donation-Transplant division), including iTransplant℠, the leading international organ, tissue, and eye donation-transplantation platform. Before that, he successfully designed and built several industry leading multi-million-user products in Finance, Retail Management, Loss Prevention, and Data Analytics that have since defined new software and service categories. Alex holds German and U.S. degrees in Computer Science as well as numerous credentials and certifications, including Google GCP CDL, Microsoft Azure AI, AWS CCP, AWS CSA, and ITIL 4, and frequently contributes to public initiatives that advance research and innovation in healthcare.