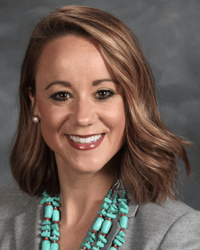 Vice President & General Manager,
Implant Management
Grounded in an inspirational leadership style, Brittney has a solid track record of developing teams and engaging employees in a field-based environment. She ensures alignment of Service, Product, Engineering, and Marketing efforts to ensure customers receive rounded insight and the best experience. Brittney's background in hospital regulatory survey readiness and operating hospital-based outpatient departments – coupled with a deep understanding of the complex healthcare delivery system – gives her a unique perspective of healthcare software.
Brittney serves as the voice of the customer as she and her team develop client solutions and innovative business lines. She received her Bachelor of Arts with an emphasis on Advertising from Harding University in Arkansas and a Master of Healthcare Administration from Louisiana State University.